Good morning everyone,

There isn't really any change in the forecast-today will be a bit cloudier than it has been and tomorrow is looking pretty much the same as today. We can expect highs in the mid 20s and lows in the high teens both days. The forecast for the weekend is still a bit murky-the weather could go either way. We could continue with this same weather or we may see overcast skies with a chance of rain. Once I know, you'll be the first person I tell!

I've got a student who recently got a licence to be an English tour guide and will have to give her first tour this weekend.

She wanted to practice beforehand so she booked some lessons with me to take me around the local sightseeing spots to have me check her English and delivery.

Yesterday we went to Shukkeien Garden.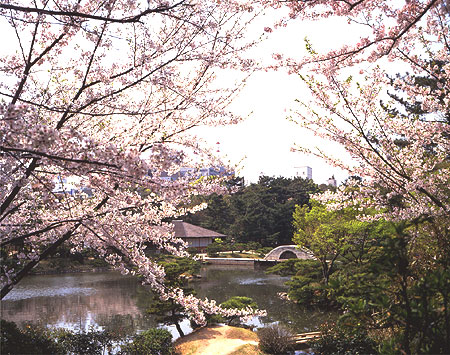 I've lived in Hiroshima for about 5 years but I hadn't been there before yesterday. It's pretty nice. Have you been there recently? Unless you're a junior highschool student or have been married recently, probably not...ha ha!

When I was there I only saw kids who were on a school trip and young married (or soon to be married) couples who were having their photos taken in traditional wedding kimono.They were gorgeous and when I asked my tour guide how much they cost, she said that the cheapest ones were about $500 but these ones were probably more than that. I thought that wasn't so expensive till I realized she meant that was the price to rent them, not to buy them! I almost had a heart attack! No wonder I haven't got married yet-I couldn't afford to even rent the wedding dress! Ha ha! If I ever do get married, it almost certainly won't be in Japan (unless her parents are rich and offer to pay for the whole thing...ha ha!).

Anyway, Shukkeien was very relaxing and peaceful and it felt a couple of degrees cooler than downtown. It was hard to believe that we were still in the middle of the city. Even the junior high school kids were quiet...

We didn't have time to go to the Art Museum next door but apparently there is a cafe in there that gives a great view of the garden-I'll check it out next time there is an exhibition there!

This morning I'm off to Miyajima...if I learn anything new about it, I'll let you know tomorrow! And, if I remember, I'll buy some momiji manju for Free Chat-that way I can feel like a "real tourist". Ha ha!

Have a great day!
2012-05-31(06:35) :
レッスン :