Is that for real or is it a lateApril Fool's Day joke?
Good morning everyone,

It's going to start off mostly cloudy today and then it'll be raining by the time you're heading home from work...or earlier. Then it'll start off rainy tomorrow and stop (hopefully) midday. Both today and tomorrow are looking a bit chilly with highs around 19C or 20C and then it'll warm up to around 27C and be sunny from Thursday on.

In English, KFC has a slogan that its chicken is "Finger Lickin' Good" and now they want you to take that slogan literally.
The fried chicken company, along with marketing giant Ogilvy & Mather, has produced edible nail polish for customers in Hong Kong.
The nail polish comes in two flavors and colors: Original (kind of a beige) and Hot & Spicy (red). To use it, customers can paint the polish on their nails, let it dry, "and then lick -- again and again and again."
KFC says the nail polish is "sourced from natural ingredients," perhaps in an effort to make customers feel safer about licking nail polish.
"The recipe for our edible nail polish is unique and was specifically designed to hold the flavor, but to also dry with a glossy coat similar to normal nail polish," said John Koay, creative director for Ogilvy & Mather. "This campaign is designed to be intriguing and fun to increase excitement around the KFC brand in Hong Kong."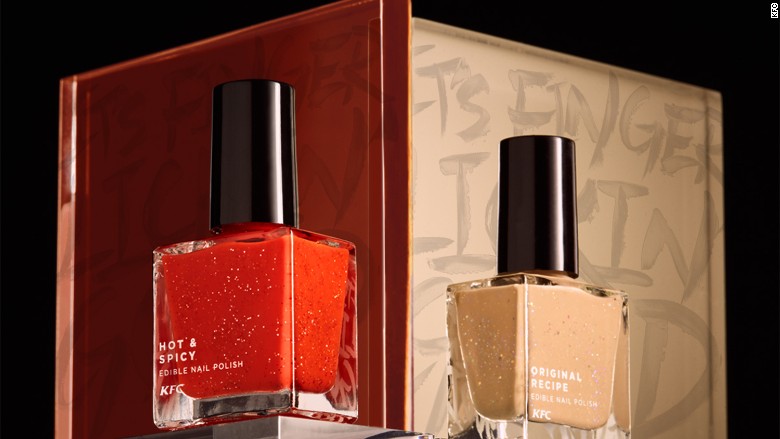 The KFC nail polish is packaged in a "designer bottle and box" (not a bucket). The chicken chain has promoted the nail polish on Facebook and social media over the past two weeks, even releasing a music video on YouTube.
The music video features a beat-boxing woman playing keyboard on a pillar, licking her fingers, while a robot-dancing guy shows off his Hot & Spicy KFC nail polish.
KFC says that it has asked customers to pick their favorite flavor to go into mass production.
While edible nail polish isn't a new thing, till now most of them have been marketed towards children. What do you think? Will this be a success or do you think it's just a marketing ploy to get people talking about KFC? If it comes to Japan, will you try it?

Have a great day!

2016-05-10(05:21) :
レッスン :