Tired of Cat Cafes? No problem!
Good morning everyone,

The coolest it's going to be this week is...34C. It's hot...again.
So everyone knows about Japan's cat cafes. You get a drink, hang out with some cats, and enjoy some quality animal-human bonding time. But what about when you've already finished making the rounds to all the cat cafes? Or when your animal-loving heart is craving a shared drink with a different species?
To answer that question here are the top five offbeat animal cafes in Japan-unfortunately, they're all in Tokyo. No cats or dogs here, we're focusing on cafes that specialize in animals you don't typically see every day.
So let's get to it! Starting off with…
Honorable Mention: Goat Cafe – Sakuragaoka Cafe (Shibuya, Tokyo)
"Shibuyagi" (a combination of "Shibuya" and "yagi" – "goat" in Japanese) named Sakura and Chocolat will add a bit of goat ambiance to your beverage-sipping experience. Just be careful with any leftover coffee cans.
Why is this only an honorable mention? The owners don't encourage petting Sakura and Chocolat — only observing them and enjoying their presence. Personally for me it'd be heartbreaking not to touch the goats, but others may find it ok.
#5: Hedgehog Cafe – Harry (Roppongi, Tokyo)
If you're not quite ready to graduate from cats and puppies, then hedgehogs are a good stepping stone. At Harry, the recently-opened hedgehog cafe in Roppongi, you can pick up and play with hedgehogs to your heart's content. We
The reason this is only #5 on the list is because it's more "animal" than "cafe." Harry does sell drinks, but the hedgehogs are the main course here. There's definitely nothing wrong with that if you're just looking to squeeze a bunch of round fluffy animals, but those hoping for the cafe aspect may want to try elsewhere.
#4. Penguin Cafe – Sumida Aquarium (Sumida, Tokyo)
Looking for something cold to drink? Then check out the Penguin Cafe located inside Tokyo's Sumida aquarium. You can watch them swim, waddle, and chow down on some fish as you enjoy a penguin parfait.
Unfortunately you can't just go to the Penguin Cafe without buying an aquarium ticket, which costs around Y2,000, but that's not so bad if you make a whole day of it. Also, like the goat cafe, touching the penguins here is not allowed either.
But thankfully the Penguin Cafe more than makes up for it by going all-out on penguin-themed snacks. Here's just a small sample of the goods they have lined up:
▼ Penguin cookies and-
OH MY GOD look at those penguin olives!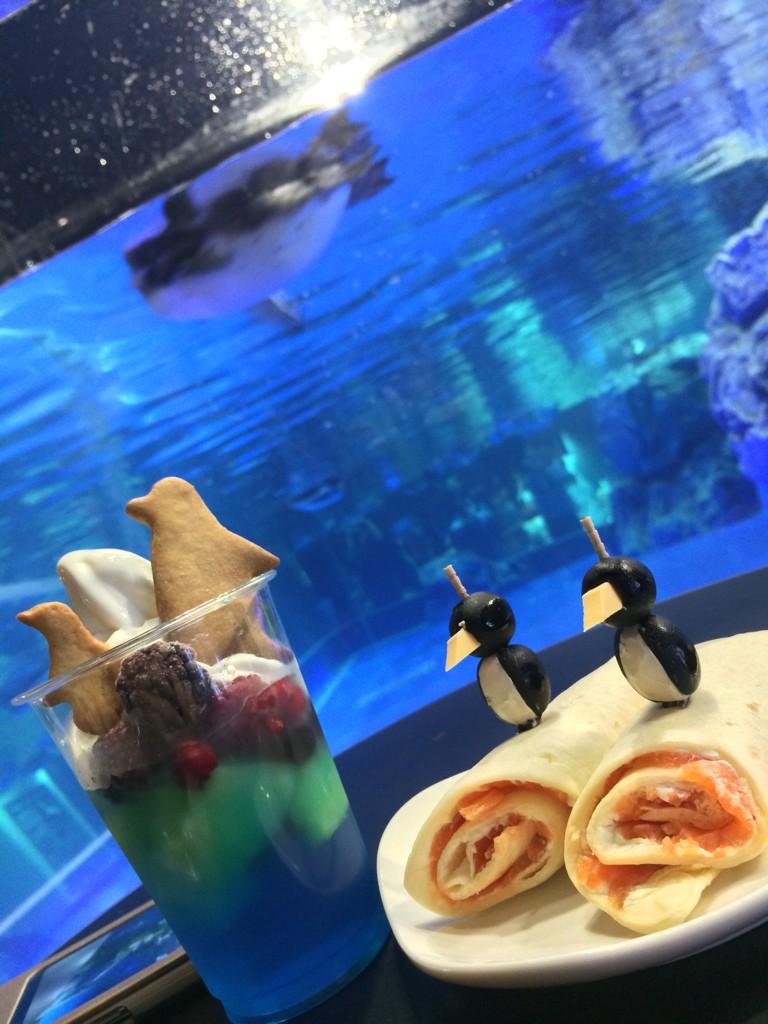 #3. Rabbit Cafe – Usagi Cafe Ohisama (Setagaya, Tokyo)
Sometimes you're not in a cat mood, but you still need a fluffy animal to cuddle with, and that's where Usagi Cafe Ohisama comes in. There are a lot of rabbit cafes out there, but Usagi Cafe is one of the few that finds the balance between letting you play with adorable fluffy bunnies, and serving up delicious beverages and food.
#2. Bird/Owl Cafe – Tori no Iru Cafe (Kiba/Asakusa, Tokyo)
There are a lot of bird cafes, but surprisingly not all of them allow customers to interact with the birds. At Tori no Iru Cafe though, you're welcome to pet the birds and have them perch on you.
What sets Tori no Iru Cafe apart as well is the sheer variety of birds. There's falcons, owls, parrots, cockatoos, and more, making for a very colorful dining experience. Plus their bird-themed sweets are really cute as well.
And the #1 offbeat Japanese animal cafe is….
#1. Reptile Cafe – Reptiles Cafe (Yokohama, Kanagawa)
When you need something scaly to soothe your hardened heart, Reptiles Cafe in Yokohama has you covered. Whether it's snakes, iguanas, turtles, geckos, frogs, or anything else with slimy skin, they have it all.
This place easily takes number one for its uniqueness. Sure, cat and dog cafes are everywhere, but if you want to dine with a cold-blooded cutie, there's not many places available. Thankfully Reptiles Cafe fills that niche with some very friendly faces:

Do any of those look tempting to you? To be honest, I haven't even made it to a cat café yet...so I doubt I'm ready to move up to anything more exotic...

Have a great day!

2016-08-05(05:41) :
レッスン :