Merry Christmas everyone


It's going to be great weather today, so I hope you make sure to get out and burn off some of the calories from last night's dinner. It's going to rain tomorrow and Tuesday, so if you want to do laundry, you'd better get on it today! If you're the type of person who likes to plan ahead, New Year's Eve is looking cool but no sign of rain.


At Christmas, Christians all over the world celebrate the birth of Jesus Christ. Traditional Christmas decoration often can be admired and festive celebrations can be joined in most countries, even in many of the countries where Christianity is not the religion of the majority of people. Christmas trees are a popular decoration as are tiny sparkling lights in windows and on walls.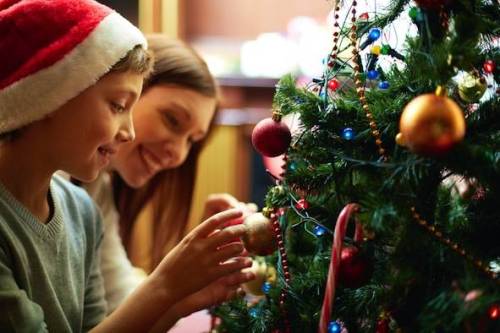 Christmas all over the world is celebrated on Christmas Day, the 25th of December. Some countries however have different Christmas traditions and Christmas traditions and celebrations take place over a longer period of time. Below you will find some interesting Christmas facts for various countries. If you want to learn more about other interesting Christmas traditions in those countries simply click on the links to go to our country specific Christmas pages.
France
In many regions in France, Christmas celebrations start with St Nicholas day on the 6th of December. Then children get sweets and little gifts. Cities are decorated in France, especially in the Alsace region, where they say the first decorated Christmas trees appeared as far back as the 14th century.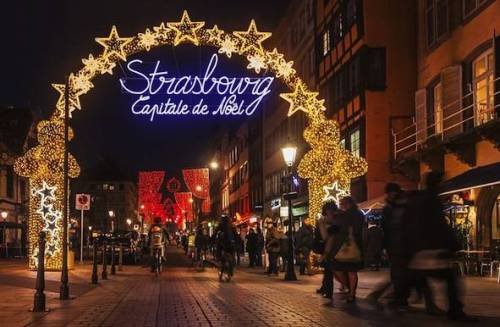 On Christmas eve, Children put their polished shoes out in front of the chimney and hope that 'Père Noël' (Father Christmas) fills the shoes with sweets. Christmas Day, 25th of December is a public holiday and families get together for a big feast. On this day also presents get exchanged.
Italy
In Italy, a nativity scene, a 'presepe', is usually put up in churches, town squares and often in houses and is for many the most important parts of Christmas decorations.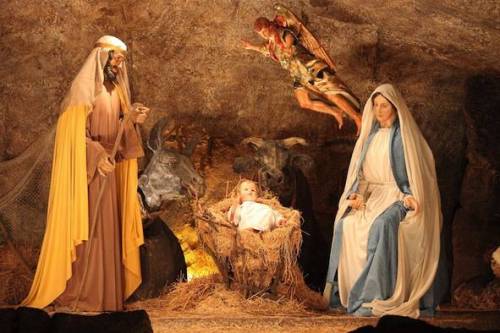 The nativity scene display with a crib filled with straw, originally stems from Italy and is now common occurrence in many countries around the world. In Italy, 'Babbo Natale', that's how Father Christmas is called in Italian, hands out presents to children on Christmas Day. Still in many families, gifts are exchanged only on January 6 that is the day of Epiphany. The people wish each other 'Buon Natale', which means Merry Christmas.
Christmas in Germany
In the weeks leading up to Christmas, Christmas markets are set up on main squares in many cities.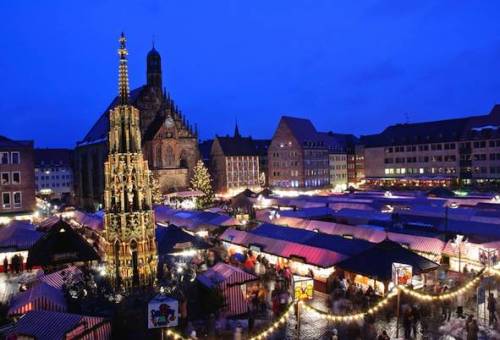 Houses are often decorated with lights and ornaments in December, however the Christmas tree is usually only put up in the homes only in the morning of the 24th of December.
Festive Christmas celebrations in Germany begin on the 24th of December, on Christmas Eve. Shops close early on Christmas eve, so remember that you have to get your Christmas shopping done until lunchtime.
Christmas in England
In England, Christmas decorations start early-sometimes as early as late October! Many families decorate their houses with lots of fairy lights and sparkling displays.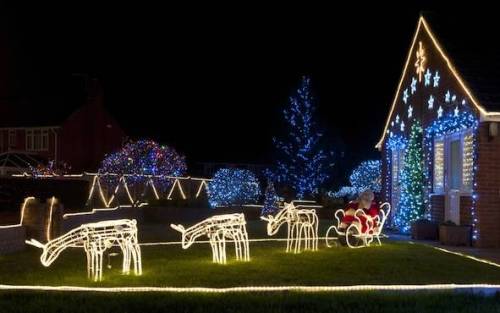 Often the house owners collect donations from visitors to their displays in aid of local charities. So remember if you like a display place some spare coins into the honesty boxes and help a good cause.
Christmas is celebrated on Christmas Day, the 25th of December. 
Christmas in Iceland
In Iceland, children put their shoes on the windowsill so the 'Juletide Lads', the Santa Claus, fills the shoes with little goodies.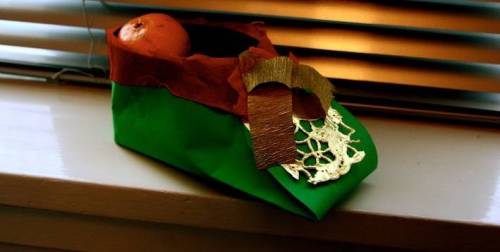 Christmas celebrations in Iceland start on 24th of December, Christmas eve. Families get together and enjoy good food and many visit midnight mass.
Christmas in the Philippines
In the Philippines there is a special tradition of having a Christmas lantern, which is called 'paról'; the lantern is star-shaped, remembering the star of Bethlehem, and mainly made out of bamboo and paper. In the image below you can see how the lanterns look.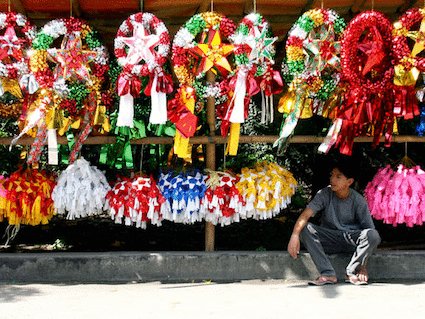 The Christmas lanterns are on sale during Christmas time in the many markets in the Philippines.
Singapore
In Singapore, about two in ten people are Christians. Christmas however is very commercialised in Singapore and Christmas decorations with Christmas lights can be found everywhere.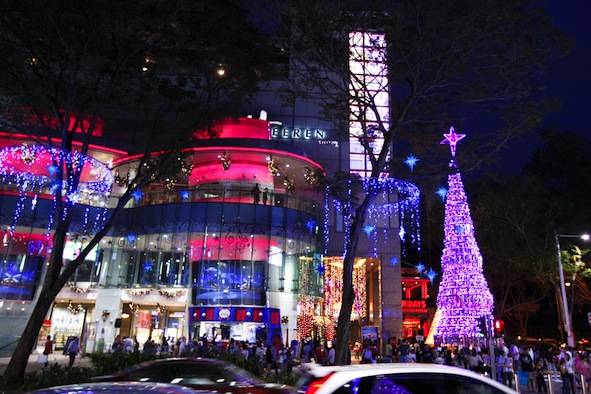 Stunning decorations can be seen everywhere in the main shopping district, Orchard Road as you can see in the image above.
Australia
In Australia, it is tradition in the weeks up to Christmas to join in Christmas picnics organized by various churches and sing Christmas carols on the beach. As Australia is on the southern hemisphere, Christmas is in summer time and thus it is easy to understand that during Christmas time friends and family often gather at the beach.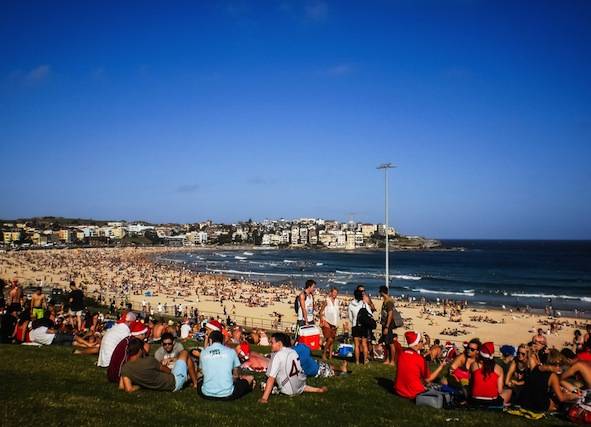 Young people, families and friends gathering in Bondi Beach near Sydney on Christmas Day.
Christmas in Brazil
In Brazil, you will often find a 'presepio', a crib or nativity scene, in front of a church. The 'Papai Noel', or Father Christmas, travels from Greenland to Brazil to give presents to Brazilian kids. Many cities display Christmas trees during the month leading up to the '' and often the year end is celebrated with fireworks. In Brazil, you say 'Bom Natal' or 'Boas Festes' if you wish somebody Merry Christmas.
Christmas in South Africa
In South Africa, people celebrate Christmas Day with the family often with a 'braai', similar to a BBQ, as it is summer season there as well. Many people visit Christmas mass on Christmas as well.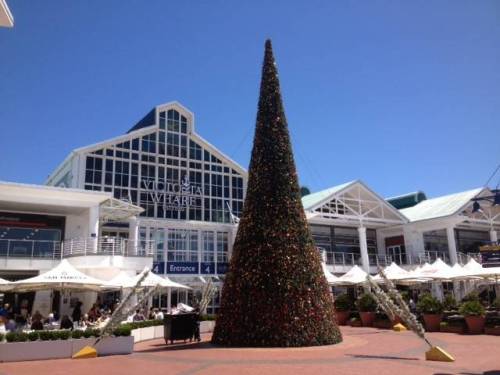 Christmas Tree at the Cape Town V&A Waterfront/South Africa
Above you can see the modern Christmas tree in front of the V&A Waterfront Shopping Centre in Cape Town. At the Waterfront there are many Christmas concerts during the weeks leading up to Christmas Day.
Christmas in the USA
Christmas is celebrated on 25th and 26th of December. On Christmas Day, families get together for a festive meal after exchanging gifts. On Boxing Day, the 26th, friends and family are usually visited to exchange gifts. It is customary to send and give Christmas cards. Some people write on cards: Merry Xmas! Xmas stands for Christmas, the X symbolizes the cross.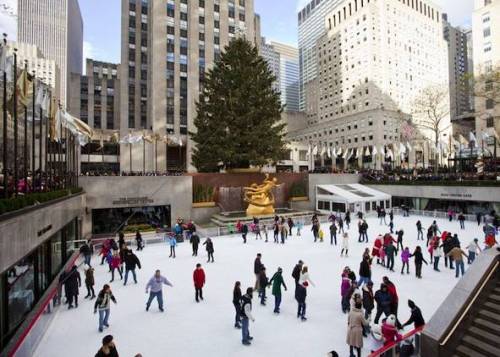 Fun Christmas time in the ice-rink at Rockefeller Centre in New York City.

Yeah, I know...it's a little boring. Cut me some slack, it's Christmas! Ha ha!

Have a great day!

2016-12-25(06:06) :
レッスン :