Cool Canadian coins
Good morning everyone,

How about this rainy season? Pretty good, eh? We're expected to have mostly sunny weather with daytime highs in the mid to high 20s all through the weekend and into next week. I wonder if it will ever rain during rainy season this year? Ha ha! (Don't worry-I'm certain that we're going to get a lot of rain towards the end of the season...)

So, this year marks the 150th Anniversary of Canada being a 'country'. And one of the things they're doing to commemorate it is to release some cool coins. Check the toonie out-I'm betting that hoarding coins will soon be the latest Canadian fad.That's because the new toonie, with a stunning design of the iconic Northern Lights, glows in the dark!!
The Royal Canadian Mint announced a special set of coins that would be circulated this year to celebrate Canada's 150th birthday. But the sneaky minters intentionally kept the glow-in-the-dark feature a surprise to generate added excitement.
It totally worked because I'm thinking about flying home just to get one of these! Ha ha!
Named "Dance of the Spirits," the gorgeous design was submitted by Dr. Timothy Hsia from Richmond, B.C. and his lawyer brother, who both happen to do artwork "in their spare time," reported CBC News.
The coin was coloured using the mint's new "new pad-printed process and a new ink formulation containing luminescent material," according to mint spokesman Alex Reeves.
All that cool technology makes the Northern Lights design really stand out. About three million of the toonies have been made for general circulation, and you'll see them eventually as banks replenish their coin inventory, explained Reeves.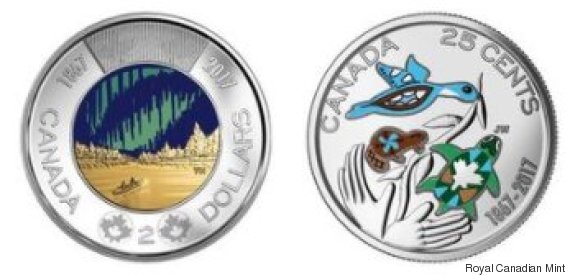 The mint also added colour to the Canada 150 circulation quarter, designed by Joelle Wong when she was eight years old.
Instead of hoping for these 'to die for' coins to show up in your change at Tim Horton's, you can buy a full set of the Canada 150 coins yourself at a Royal Canadian Mint boutique in Ottawa, Winnipeg or Vancouver, or online. And...if you're visiting Canada this year, please make sure you get one for your favorite English teacher!

Have a great day!
2017-06-15(05:35) :
レッスン :